Berocca® Performance Orange Effervescent Tablets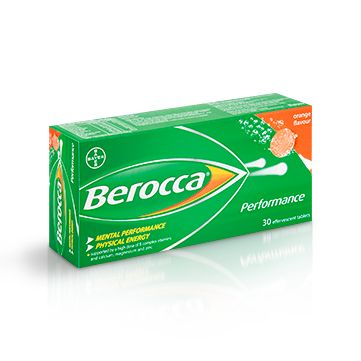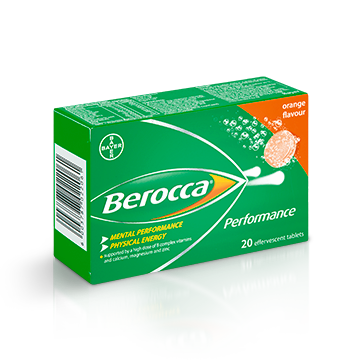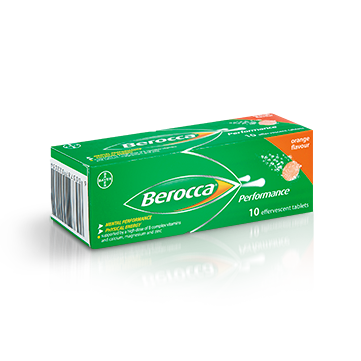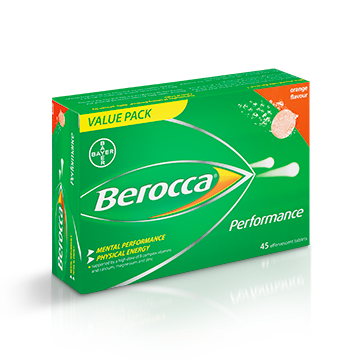 Berocca® Performance Orange Effervescent Tablets
A clinically tested tablet with 13 essential vitamins and minerals. Berocca® supports the release of energy so you can be at your best, whatever daily challenges you're facing.
Getting your Berocca® couldn't be simpler. Drop a tablet into a glass of water and leave it to dissolve. Take maximum one a day. Whether you have a busy day ahead or studying for exams, Berocca® is a little drop of positivity to support you feeling at your best. Spark your energy!
Available in four packs , 10 pack, 20 pack 30 and 45s pack.
Formula
Formula
The formula of magnesium, zinc, calcium, vitamin C and eight B vitamins helps release energy from your food, reduces tiredness and fatigue and also supports physical and mental stamina. This makes Berocca® the ideal choice for getting through those late nights and challenging days.
Ingredients
Ingredients
Each Berocca® contains:
Vitamin B121.11 mg
Vitamin B222,56 mg
Vitamin B316,80 mg
Vitamin B528,36 mg
Vitamin B613,50 mg
Vitamin B1227,50 μg
Vitamin C340,22 mg
Folic acid0,49 mg
Calcium275,00 mg
Magnesium100 mg
Zinc10 mg
1  Huskisson E, et al. The role of Vitamins and minerals in energy metabolism and wellbeing. The journal of international medical reach. 2007;35:277-289
2 South African Health Products Regulatory Authority. COMPLEMENTARY MEDICINES - HEALTH SUPPLEMENTS SAFETY AND EFFICACY. [Online] 03 02 2020. [Cited: 03 02 2020.] http://www.sahpra.org.za/wp-content/uploads/2020/04/7.04_SE_Health_Supplements_Jun16_v2..docx.pdf. 7.04_SE_Health_Supplements_Jun16_v2 .
Find the right
Berocca
®

 for You

Stay focused even when you're tired! Find more Berocca® products for your energy boost.
Find
The nearest shop
Get more time in your day with less time shopping. Get your Berocca® Energy boost from a store nearby.
find now
Discover
Life Energy
Looking for tips on how to beat fatigue? Read more about natural energy boosters!