Berocca® Performance Tablets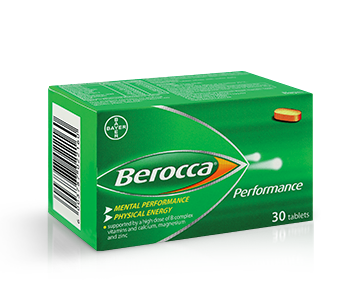 Berocca® Performance Tablets
Berocca® Performance is also available in a convenient film coated tablet. Berocca® Performance film coated tablets have the same formulation as the effervescent tablets however do not contain aspartame and have a low sodium content (1.9 mg per tablet).
Available in an easy to swallow format.
Formula
Formula
The formula of magnesium, zinc, calcium, vitamin C and eight B vitamins helps release energy from your food, reduces tiredness and fatigue and also supports physical and mental stamina. This makes Berocca® the ideal choice for getting through those late nights and challenging days.
Ingredients
Ingredients
Each Berocca®  contains:
Vitamin B121.11 mg
Vitamin B222,56 mg
Vitamin B316,80 mg
Vitamin B528,36 mg
Vitamin B613,50 mg
Vitamin B12 27,50 mg
Vitamin C500 mg
Vitamin H340,22 μg
Folic acid0,49 mg
Calcium275,00 mg
1Huskisson E, et al. The role of Vitamins and minerals in energy metabolism and wellbeing. The journal of international medical reach. 2007;35:277-289
2South African Health Products Regulatory Authority. COMPLEMENTARY MEDICINES - HEALTH SUPPLEMENTS SAFETY AND EFFICACY. [Online] 03 02 2020. [Cited: 03 02 2020.] http://www.sahpra.org.za/wp-content/uploads/2020/04/7.04_SE_Health_Supplements_Jun16_v2..docx.pdf. 7.04_SE_Health_Supplements_Jun16_v2 .
Find the right
Berocca
®

for You

Stay focused even when you're tired! Find more Berocca® products for your energy boost.
Find
The nearest shop
Get more time in your day with less time shopping. Get your Berocca® Energy boost from a store nearby.
find now
Discover
Life Energy
Looking for tips on how to beat fatigue? Read more about energy boosters!