Berocca® Performance 50+ Effervescent Tablets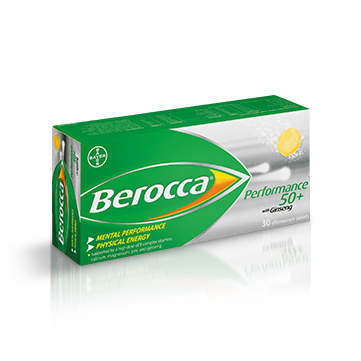 Berocca® Performance 50+ Effervescent Tablets
Unlock your full potential with Berocca® 50+ energy multivitamin with ginseng extract for improved concentration, clarity and stamina. Berocca® supports the release of positive energy so you can be at your best, no matter your age. 
Drop a tablet into a glass of water and leave it to dissolve. Whatever daily challenges you're facing, Berocca® is the drop of positivity you need to be the best you can be. Spark your energy!
Available in 2 pack sizes: 20 pack, 30 pack*
Formula
Formula
The formula of magnesium, zinc, calcium, vitamin C and eight B vitamins helps release energy from your food, reduces tiredness and fatigue and also supports physical and mental stamina. This makes Berocca® the ideal choice for getting through those late nights and challenging days.
Ingredients
Ingredients
Each Berocca® contains:
Vitamin B115 mg
Vitamin B215 mg
Vitamin B316 mg
Vitamin B523 mg
Vitamin B610 mg
Vitamin B12 25 μg
Vitamin C300 mg
Biotin150 μg
Folic acid400 μg
Magnesium100 mg
Zinc10 mg
Ginseng50 mg
1  Huskisson E, et al. The role of Vitamins and minerals in energy metabolism and wellbeing. The journal of international medical reach. 2007;35:277-289
2 South African Health Products Regulatory Authority. COMPLEMENTARY MEDICINES - HEALTH SUPPLEMENTS SAFETY AND EFFICACY. [Online] 03 02 2020. [Cited: 03 02 2020.] http://www.sahpra.org.za/wp-content/uploads/2020/04/7.04_SE_Health_Supplements_Jun16_v2..docx.pdf. 7.04_SE_Health_Supplements_Jun16_v2 .
Find the right
Berocca
®

for You

Stay focused even when you're tired! Find more Berocca® products for your energy boost.
Find
The nearest shop
Get more time in your day with less time shopping. Get your Berocca® Boost from a store nearby.
find now
Discover
Life Energy
Looking for tips on how to beat fatigue? Read more about natural energy boosters!